Post by thekeep on Jul 19, 2018 21:55:07 GMT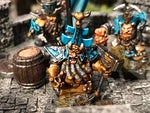 Please tell me/us more about the store time of your life. How was it running a store? How was the interaction with GW over the years? Why did you close?
I have always dreamt of owning a store but will not happen unless it's digital as I am pleased with my current business situation

So running a store was the best 13 years of my life, sort of!!! The job was great, the stress was not. Self-employment is a two-edged sword! I dealt with GW before they did direct sales, and after (more on that later). I closed due to a myriad of reasons (more on that too!).
GW was a mixed bag. I went through a series of reps there, some awful, some good, and a few GREAT ones. GW as a business partner was good to me, BUT I was a top selling store during my day, I turned my GW inventory over 2-4 times a year. I had a 40 foot wall of GW stuff. I had all the blisters and box sets they sold on my shelves, at least 2 deep, if not 4+ deep on units. I had the US Bitz Wagon come up many times, my store event pictures were used in WD and other flyers too. I had all the US tours come my way (Epitome of Evil, the Dark Angel event. etc.). I had reps come up and US Sales head John Matthews come and play games against my tournament winners. They even flew me out in 2001 for the re-appearance at the Game Trade show in Vegas. Ha, now that I write this- I had a pretty good relationship with them.
The closure issue is multi-layered. I was dumb enough to open in a low population state, Maine has about 1.3 million people- of which most are older to elderly. I also was located in a military town. When the Iraq war called up a ton of reservists in Maine, I lost a significant number of 18-34 year old males, who are your bread and butter in this business. Shortly after that, World of Warcraft took over. I would have gamers get up and leave tournaments to go home and play in 20-40 person raids. A year later and the Military announced they would be closing the base in my town, so there went 17 million out of the local economy. At this point, I am married with 2 small kids and would have survived these headwinds- but my family would not. So, I chose to close. Took me a better part of a year to make that decision. It's hard to choose to fail.
However, I game on!!!!