Post by grandmasterwang on Feb 6, 2019 23:00:59 GMT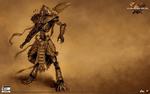 happy to read your reply.
I normally don 't play with Glottkin but you are completely right.
Glottkin rules are really good for beastmen and marks make a lot of difference.
Nurgle /tzeentch are really effective....
and don t underestimate khorne on bestigor....It 's cool...
Talking about minotaurs...
You are right ...they are expensive and "fragile"in terms of protection..
BUT
BUT ...
Imho if you play them with GW and in block of 4 ....you are not using them efficiently.
why?
- they are not enough
- GW means attack last and then ...here you are the problems
I think for using them more efficiently you should
-raise their number as I mentioned before --( 5 works fine for me)
-remove GW because in melee we need to attack simultaneously or before some opponent ( Init. 3 is not the best but also not so bad)
and more over
massify attacks...
How?
-adding AHW .....+1 attack
-adding a champion ......+1 attack
-deploy in the Unit a Gorebull
they will gain frenzy ..so +1 attack and immune to psychology
so in a 3x 2 unit charging we will have
D3 +2 impact hits
then the first rank ....
Gorebull has 5 attacks ( 4+ 1 Frenzy)
Champion 6 attacks! ( 4+1 AHW+1 Frenzy)
Minotaur 5 attacks ( 3+1 AWH+1 Frenzy)
16 attacks Strength 5 ..+ on average 4 impact hits ...so 20
second rank ...
assuming we lost 2 minotaurs because of arrows...cannon or simply because we attack per initiative and maybe we are slower
we will have 3 additional attacks by the minotaur on the second rank
If it's the case we have also the stomps...
now I don t want to examine the bloodgreed rule....
.....
Let 's go on ...
if you want to be more aggressive why don 't use 2 units?
eheheh
ok all in all It 's expensive but if they enter in melee...they will pay you back...
Defense and protection
Champion in one unit is interesting because you talked before about mark of tzeentch...
Now I can tell you that also without Glottkin help we can give to the champion
Blackened Plate ( 2++ vs flame attack 4++ vs flame attacks to the unit)
and also Iron Curse Icon to the gorebull
and here you are a 6++ against Wm
It s not a comparison with Mark of tzeentch but it 's more than something .
Now I am going to share with you one of my lists .
I hope you can find good ideas in it.
I used to run a unit of 7 minotaurs with Doombull as a massive attack unit (4*2) but I've gone off that build which is why I'm now using the smaller tzeentch unit. I like to play a variety of lists. I run it 2 * 2 in a specialist mode off to the side of my main force so it's in a different role than a big block would be. Against many armies to Minotaurs are striking last anyway and unfortunately the second rank doesn't benefit from the AHW as it's limited to 3 attacks which is why I generally prefer GW's. I'm not disputing anything you've said about a full strength units killing power however! A unit of minotaurs which has 'fattied up' is one of the most fearsome units in Warhammer. My best ever is 8 attacks per minotaur but I'd love to 1 day get to 10 in a no time limit game (I'd have to go back to a big unit to get that).
One point about the large minotaur blocks is that they are so fearsome the opponent will often go to great lengths to avoid and redirect it. The 2*2 unit only has an 80mm frontage and seems to have a lot more 'freedom' on the battlefield due to other threats seeming more significant. It can also slot into places in support of the main Beastmen units where a larger unit can't.
Like I said I'm always changing things around and like to mix it up. The biggest reason for running the smaller unit is that it allows more Bestigor/ special chariots

Khorne marked Bestigor are one of my favourite units! I've found them to be the most fearsome units in the army. A unit of 19 to 30 is a mainstay of my lists due to its killing power.
I've rarely run Gorebulls but have the oop metal AHW Doombull model on the way which I plan as running as a gorebull so may even experiment with one of your 6 strong units once he's ready for the battlefield.
Yes please share your lists. I love reading through Beastmen lists

Currently Beastmen are the main army I'm working on so it's always great to hear thoughts from a fellow Beastlord!
They are very underappreciated but simply an awesome army. There are now a few Beastmen players on this forum which is great.!