Post by gregwarhamsters on May 21, 2017 23:16:36 GMT
New campaign proposal



House rules and scenario details.



Magic resistance (and only magic resistance) can be used against spells that don't allow saves of any kind allowed. Look out Sir rolls can be made against the big spells.

Normal army restrictions apply as per Warhammer rule book V1.9 and whichever is the latest FAQ for the respective army.

Hidden characters or models should be represented by a suitable model and removed once the hidden model reveals itself. Example, a unit of 20 night goblins with 3 fanatics should have 23 models on the battlefield, these 3 models will be removed once the fanatics are revealed.

Each scenario will be limited to a point's value, each army list should include whatever was in your first list. The exception will firstly be magical items. Any item taken should be included in every list as your army progresses. This can mean the items can be transferred between characters. Units may increase in number over time if you wish but you cannot swap out units once selected.

Each level of battle will increase by 400 points per game, therefore it's easy to add different units to your army, however I understand not all units come in easy to manage blocks of 400 points so it's up to you to tactically manage your points and possibly plan for the future games. Lists will be "open" after the battle this will be as much a legality check as well as being able to see how the armies are developing. Victory points should be recorded for the purpose of calculating who's won, however we don't really want draws so a margin of 100 points should be sufficient.



Campaign



Enemy Sighted.



The first scenario will be a meeting engagement, this represents the first encounter of the opposing forces, it's either the defensive army sighting an enemy on their borders or the attacking army lying in wait on a known patrol route.

Game restrictions:1200 points but no Lord level characters to be taken. In fact no special characters should be taken as they are unique. You as the general should be a hero level character.



Stand to, enemy everywhere!



Second scenario will be Dawn attack, this represents the opposing armies quickly moving to counter positions and some orders either being miss understood or misinterpreted or just not executed in a timely manner.

Game restrictions: 1600 points. No special characters. Units will be placed as per the game scenario, however the alternating deployment method on page 142 will be used. The winner from the previous scenario gains a +1 to see who goes first (this may negate the advantage of the person deploying first or give them a +2)



The enemy are upon us!



Third scenario will be the battle for the pass, the defending army has got a bit of distance between the two forces and is now counter attacking. The attackers are of course pressing their advantage.

Game restrictions: 2000 points. No special characters. The winner from the previous scenario gains a +1 to see who goes first (this may negate the advantage of the person deploying first or give them a +2)



Hold them here.



Forth scenario will be the watch tower. The defenders will try and hold the attackers at this point.

Game restrictions: 2400 points. Special characters are permissible. The loser from the previous game will be the defender. The building has the capacity to hold 20 infantry models including characters. Monstrous infantry count as 3 models for this purpose. The building counts as having two stories.



Armies meet in open battle.



Fifth scenario will be battle line. Up till now the armies have engaged each other in a limited capacity, now will be the first time they face each other's might.

Game restrictions: 2800 points. Special characters are permissible. The winner from the previous scenario gains a further +1 to see who goes first (this may negate the advantage of the person deploying first or give them a +2)



The final battle.



Sixth scenario will be Blood and glory. Time to vanquish the foe and either conquer or save the realm.

Game restrictions: 3200 points. Special characters are permissible. Breaking point will be 4 fortitude. The winner from the previous scenario gains a further +1 to see who goes first (this may negate the advantage of the person deploying first or give them a +2)





Greg
Tomb King Vs Bretonnia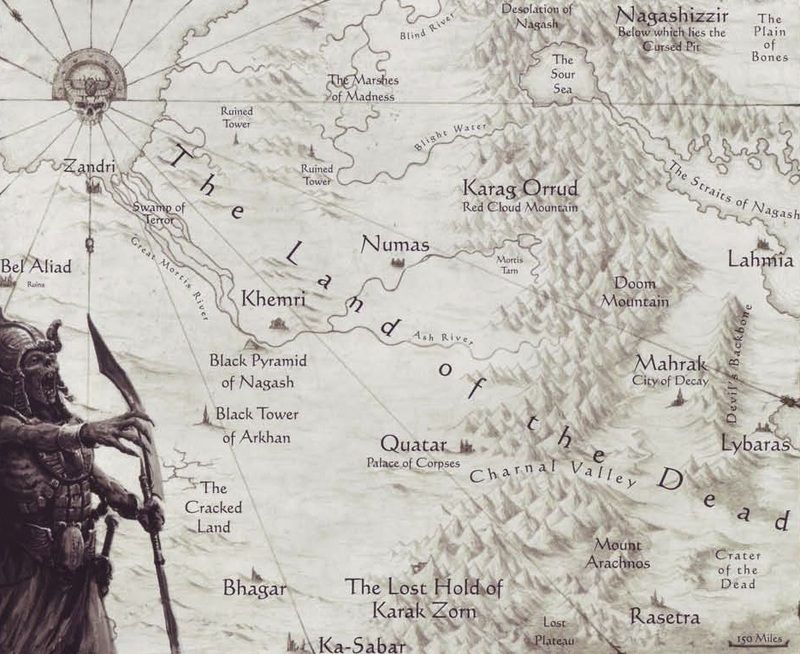 The list



Prince (154)

Armour of silvered steel, great weapon, Iron curse Icon



Liche priest (130)

level 2 Hierophant. (Nekekhara) Dispel scroll



3x 5 Horse archers (210)



2x 5 Horsemen (120)



26 Tomb Guard (361)

Full command, Razor standard



SSC (90)



CoS (135)
Prince Amen-Rah had been escorting one of the vessels of tortured souls when he received word that enemy forces had been sighted near the boarders, the vessel of souls was also accompanied by a priest, a small elite guard and some horsemen that were used to tow the casket and the catapult. Under his orders the Tomb Kings deployed, the guard flanked by some horsemen and the horse archers were sent around the flanks.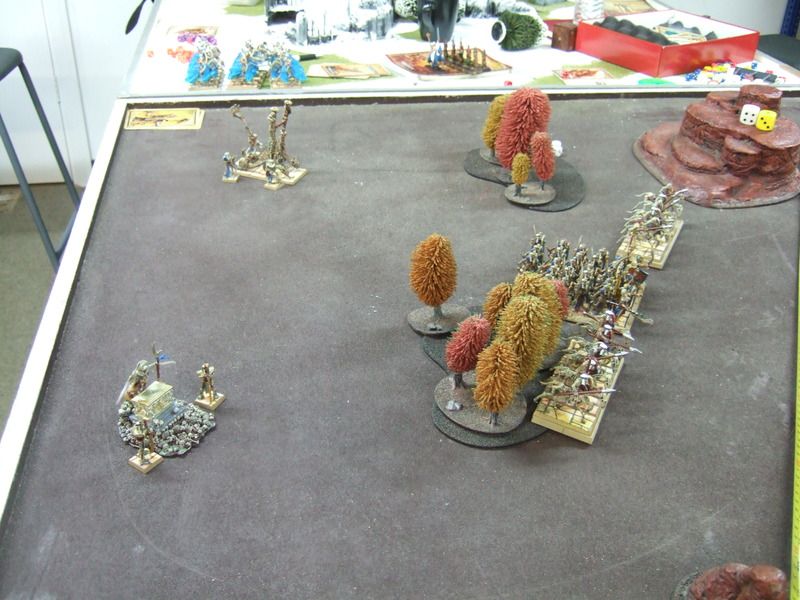 The Questing Bretonnians were probably in search for some artifacts or precious magical items - they'd found one! Amen-Rah had to prevent them capturing the casket at the very least and vanquishing the foe from the lands.
The horsemen moved forwards while the horse archers continued their flanking, while the horsemen engaged the knights, however they were no match for the Bretonnia's finest and they were destroyed. The second unit of horsemen behind were now involved in the combat and the Knights were tied up.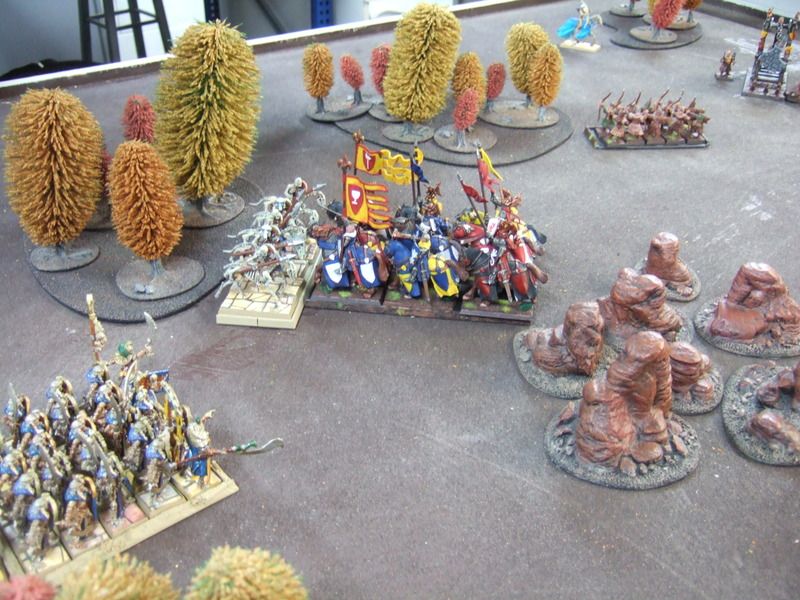 The bretonnia archers made short work of the horse archers and the flanking Paladin on a pegasus flew towards the casket accompanied by a second unit of Knights.
Amen-Rah charged the first unit of Knights along with his Tomb Guard, the hierophant ensuring they had some extra attacks curtesy of his magic.
The Knight unit was vanquished but the hierophant had falled, the keeper of the casket had retired amid the terrain to save the casket, although the casket guard had to sell their own souls to prevent the Pegasus Paladin in flying away with the prize.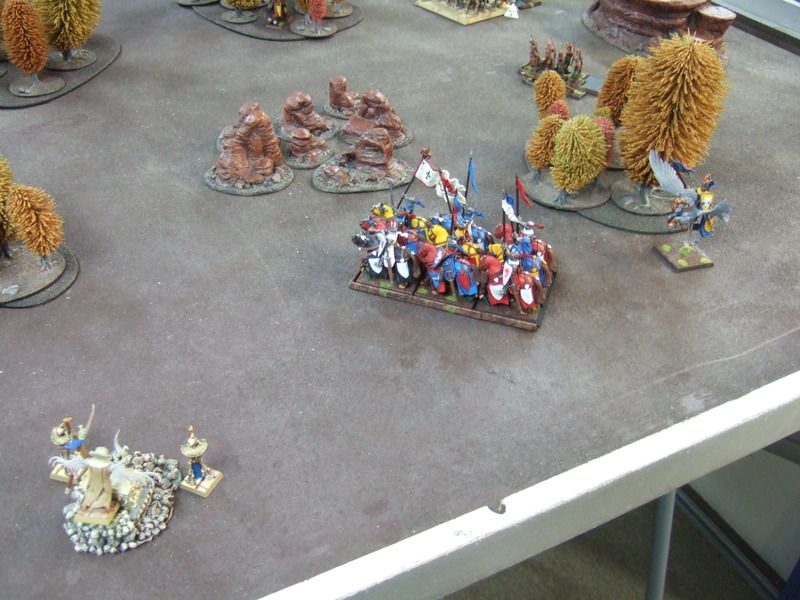 Amen-Rah continued to rid the foe before him but with only a single unit remaining on the battle field the Bretonnian Knights had won the day.
But more glory was to be had for the Knights, while the peasants weren't worth anything the Knights wanted to capture something of importance.
With a thunderious charge they closed in on Amen-Rahs tomb guard and in an unchivalrous act they attacked from behind, Amen-Rah disappeared before their very eye's and the Knights stood surveying the battle field now absent of any skeleton warriors…
Was Amen-Rah destroyed or would he return, reanimated and invigorated swearing vengeance?
Greg