Post by gregwarhamsters on May 15, 2018 20:27:54 GMT
So, I attended the Triple Crown Warhammer 8th edition tournament (32 player comped event, 25% Lords) in Hockley (UK) at the weekend and I took my Brets.
Now I've never won a tournament with my Brets so I'm not sure if I'm qualified to give any advice but as the post was empty I thought I'd add my two pence.
Firstly, I'm going to give an
overview
of the book, special rules and then units.
No doubt you've see Bretonnians about but they're not a common army at all, as the book was written under 6th edition Warhammer there have been a lot of changes to the core rules over time. Personally, I take it as a challenge to do well with the army, I'm really a "out of the book" kinda guy, I've seen some of the work on EEFL about changing the army and I'm not a fan. Repointing, adding new units and magical lores it's just not my cup of tea. However, adding devastating charge to a unit of Knights just sounds like common sense and doesn't change the whole book around making it what is in effect a new army.
So, the army can gain the blessing of the Lady if they pray before the battle. They forgo the ability to go first but then gain a ward save against damage received. The best ward save is 5+ and this is in effect on all hits of S5 or greater. S4 and they only receive a 6+ save. S4 armour piercing is therefore the best thing to use against the knights so be aware of that. You also lose the blessing if you flee (as part of a charge reaction) or break from combat. You also lose this blessing if you decline a challenge for any reason.
The lance formation. Unique to the Bret book is the lance formation. First of all it's only 3 models wide. You then rank up accordingly behind these models. 3, 6, 9 etc each rank counts so to disrupt a formation cavalry would usually require two ranks totalling 10 Brets do it with 6. Added bonus is that each flanking knight gets to fight using his full attacks if they charged that turns. So for example a unit 3 wide and 4 deep would have the Champion, std bearer and musician fight in the first rank. The second rank would get to fight (normal supporting rules) then the outside knights of ranks 3 and 4 would fight so in this case, 11 attacks on the charge. It would drop to 7 after the first round of combat.
There is a class system within the army. Peasants are the very bottom of this and as such are pretty much ignored by the Knights if they flee the battlefield, the Knights themselves are also subject to this in their own way, these are represented by Vows. Grail knights can only joined by characters that have the Grail vow, Questing Knights cannot be joined by characters with the Knights vow but may be joined by other Questing characters or those with the Grail vow. These choices can effect the way you use the characters within the army and selection is therefore important. Questing knights cannot use lances so again you have to be mindful of how you're putting your army together.
As the book is the oldest it contains quiet a few magical items where the newer books don't. Again, the book trumps the core rules, for example an Enchanted shield costs 10pts not 5pts as per the big red book (BRB) The knights also can benefit from virtues. These are not magical and therefore cannot be taken away. The Virtue of the joust for example allows a Knight to reroll misses when charging using any kind of lance. Virtue of Heroism (GW FAQ) now allows Heroic killing blow. The combinations can be quiet daunting and each virtue should really only be used once in an army. They may be used more than once but their cost increases by 100% so Virtue of heroism costs 40 points on the first character, 80 points on the next.
The army composition. One of the least amount of choices you'll see. Two Lords, a warrior and a mage, Two Heroes, a Warrior and a mage. Four core choices, four specials and two rares.
Looking at the choices in more detail.
Lords and Hero's


The Lord has to be one of the best humans in the game, WS6 I6 A4 thing is he must be mounted or pays for the privilege (Via the virtue of Empathy) to be on foot. He also pays through the nose for his vow 28 points will give him magical attacks and immune to psychology. He will start the game with the blessing regardless whether the army prays or not.
Prophetess of the Lady. A level 3+ wizard with access to the lores of Life, heavens or beasts.
The Paladin, firstly it's compulsory that at least one paladin is selected to be the battle standard bearer. Personally while I like quiet a few of the magical standards in either the army book or rule book I much prefer an option where I try and keep this guy alive. Humans leadership is average at best so the reroll is really needed.
Damsel of the Lady. A level 1+ wizard who can use either life or beast magic.
Core
.
Knights errant (5-15) 2+ save knights that must test to charge an enemy if within range. They're immune to psychology when they do so.
Knights of the realm (1+ choice, 5-15) 2+ save knights with a better WS/LD than the errants and no need to test if they're within charge range.
Peasant bowmen. (10+) one unit can skirmish the remainder get defensive stakes – which just count as a wall in the current rules. 30" range is nice and every unit can have flaming attacks if they take a 5pt Brazier.
Men at arms. (10+) They're weapon skill 2 is appalling and the fact you get a shield by default means in combat you've wasted a lot of points as they have halberds. I suppose casting Wyssans on they makes them a lot better but they're let down by their lack or martial prowess.
Special
.
Questing Knights (5-12) Better I than regular Knights but with a 3+ save, the core rules in each version didn't do them any favours. 6th and they had less armour but did strike first on the charge, 7th mounted great weapons were only at +1S not +2 this edition they strike last but at least it's at +2. Enough to say I don't actually have any in my collection.
Pegasus Knights (0-1* Choice, 3-10) apart from the fact they can't have barding these are brilliant, flying cav so -1 to hit them, as a flyer they're fast and also have the fast cav rule therefore can vanguard. *If the Lord is mounted on a Pegasus the 0-1 restriction is lifted.
Grail Reliquae (0-1 choice, 6-24 battle pilgrims) basically a holy relic in the form of a dead knight being dragged around by some fanatical pilgrims, they have hatred and are stubborn.
Mounted Yeomen (5+) lightly equipped fast cav.
Rare
Grail Knights (0-1 choice, 3-12) Elite Knights but still T3 with a 2+ save, very expensive and just as fragile as normal knights.
Field Trebuchets. the only warmachines available, simple stone throwers with 4 crew. S10 under the hole and S5 surrounding it.
So this is the list I took to Triple Crown IV (25% @ 2500pts)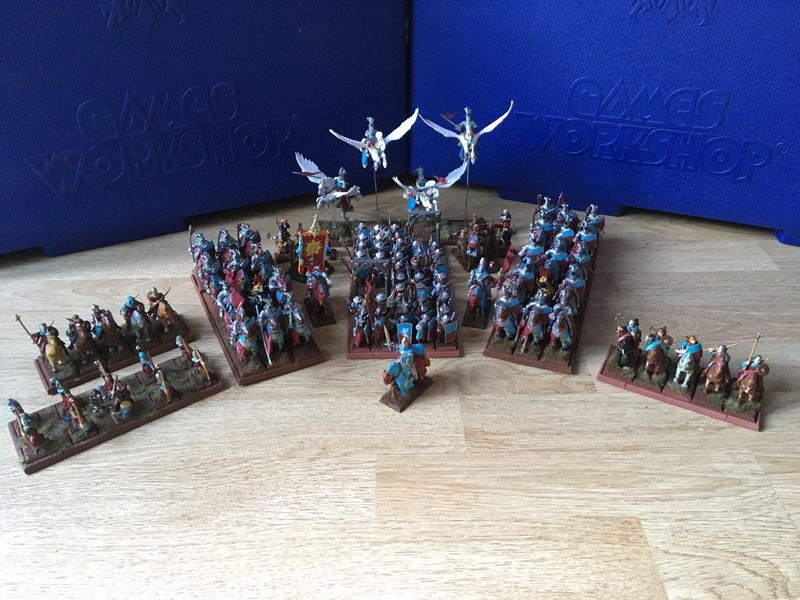 Bretonnia Lord (209)
(110) Barded warhorse (21) heavy armour (-) shield (3) Ogre blade (40) Gromril great helm (30) dragon bane gem (5)
Prophetess (315)
(190) Warhorse (15) Crown of command (35) Silver mirror (40) Level 4 (35) Lore of beasts.
Paladin (119)
(60) Barded warhorse (14) heavy armour (-) Enchanted shield (10) Dawn stone (25) Virtue of empathy (10) Battle standard (-)
Paladin (106)
(60) Barded warhorse (14) heavy armour (-) shield (2) dragon helm (10) Wyrm lance (20)
Damsel (144)
(70) Warhorse (10) barding (4) Dispel scroll (25) Level 2 (35) Lore of beasts.
14 Knights of the Realm (370)
(24) Heavy armour, shield, lance. Std (16) Mus (8) Banner of Eternal flame (10)
11 Knights of the Realm (298)
(24) Heavy armour, shield, lance. Std (16) Mus (8) Banner of Chalons (10)
50 Men at arms (265)
(5) Light armour, shield and a pole arm. Std (10) Mus (5)
10 Peasant Bowmen (90)
(6) Skirmish (1) Std (10) Mus (5) Brazier (5) Longbow and hand weapon.
5 Mounted Yeomen (87)
(15) Shield (1) Mus (7) mounted on a horse with bows, spears and hand weapons.
5 Mounted Yeomen (87)
(15) Shield (1) Mus (7) mounted on a horse with bows, spears and hand weapons.
Pegasus Knights (230)
(55) Pegasus, heavy armour, shield and lance. Mus (10)
Trebuchet (90)
Trebuchet (90)
Lords 524 pts (20.96%)
Heroes 369 pts (14.76%)
Core 1023 pts (40.92%)
Special 404 pts (16.16%)
Rare 180 pts (7.2%)
Total 2500 points
why this particular list?
Well I didn't want to go with life magic, if I was going to do that I may as well go with a special character. I wanted full control of the lore and heavens while it has a few good spells I'd only get four where if I went with beasts I'd default transformation as I couldn't use it to Wyssans and most likely take Wyssans twice.
The Lord needs to grind out high strength attacks when charge is over so I went with an Ogre blade the logic is that if I get savage beasts off then he'd be S9 and that negates any 1+ armour saves. I decided not to spend 21-28 points on a vow especially as the BSB wound be nearby for any failed tests.
Prophetess and Damsel. 6 spells between them giving me access to every spell I want in the deck, it would be unlikely that I'd roll straight numbers and not get the spell I want. It seems stupid not to have two dispels in the army , the silver mirror dispels the spell but also inflicts a S6 hit on the caster.
Paladins, the compulsory BSB in my opinion needs looking after so a 1+ rerollable save is essential. I wanted him to support the men at arms so I gave him the virtue of Empathy so they could use his leadership from up to 12" away. The second Paladin came around as I needed something else in the list, the Wyrm lance not only has a breath weapons but is flaming.
Knights of the realm, two units 14+11 strong mainly as this is what I had painted, in a 2400 point list I generally went with 2x11's.
50 men at arms was a new inclusion, I wanted to negate my opponents steadfast with more ranks than he had. With the virtue of Empathy from the BSB they were in effect stubborn 8 with a reroll.
10 Bowmen, skirmish to allow freedom of movement and a brazier to get flaming shots. Ideal against Trolls and abominations.
The Yeomen allowed for the bait and flee option plus if they were boosted with Wyssans they actually became very effective at clearing out my opponents chaff.
4 Pegasus Knights without a standard, unless I took 5 I'd always be taking a panic test if I lost one, if I'd taken a full command the musician usually gets the good news so rallying gets to be a problem.
The trebuchets are a must. Hopefully if I went against trolls and the like I'd inflict a wound with archers first.
The tactic was simple, negate my opponents ranked up units with my men at arms and smash them with my knights while the Pegasus and yeomen flank the army getting at the rear units.
Now I didn't win the tournament but I did come 8th.
Regards
Greg