Post by KevinC on Apr 28, 2021 16:10:48 GMT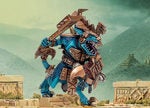 You can check it out here (you have to scroll down):
Beasts of Chaos
Hey Kev, thanks for pointing that out, I've enjoyed reading it. I certainly agree that Beastmen had a more unique flavour in 6th Edition and updating these rules for 8th plus adding the 7th Edition units would be very much like what GW did for (funnily enough) Orcs and Goblins (their 8th Animosity rules were a repeat of their 6th Edition rules rather than carrying over the 7th Edition rules). Your addendum covers a lot of the main points, but I have a few points I'd like to add:
Personally I'd prefer to see the 7th Edition rules for Primal Fury over what is simply pretty much army-wide Hatred, mainly because Primal Fury allows for hatred in combat turns after the first, it has some variable outcomes to keep it balanced, and also because calling your rule 'Children of Chaos' becomes pretty pointless when it just gives most Beastmen units Hatred - it'd be better to simply state that the units have Hatred in their special rules section - whereas Primal Fury is a unique rule different from normal Hatred. Not to mention that one of the Storm of Magic Cataclysm spells for Beastmen revolves around Primal Fury. With regards to Malagor's Icon of Vilification rule, it could be amended to allow all friendly units within 6" of him to automatically pass Primal Fury tests.
With the three named Lord choices from the 6th book, Throgg and Kholek (who should appear in a Beastmen army as Dragon Ogres and Chaos Trolls are there, I have no problem with that) plus your rules for Malagor inspired by the 7th book, we have 6 named Lord choices. That's fine, but conversely just from your addendum we only have 2 named Hero choices (Ungrol and Ghorros), which leaves an imbalance between named Lords and Heroes - most armies have a roughly equal number of named Lords and Heroes. I'm surprised you didn't include Taurox, Moonclaw and Slugtongue in your addendum, because these would be great to add as Hero choices. If you didn't include them originally because you weren't able to think of ways in which they could be made decent (especially in the case of Moonclaw) I'd be happy to work on improving these.


Given that you're allowing the Ghorgon as presented in Storm of Magic to be used, wouldn't it make sense then for its version of the Bloodgreed rule to apply to Minotaurs, Doombulls, Gorebulls and Tzaanbulls (as it does for the former three in the 7th book)?
Given that the Raiders special rule is back in full form, I'd recommend changing the name of your Ungor-exclusive Core unit to something like Ungor Hunters to avoid confusion with the name of this army special rule.
It's great that you've included rules for Tzaangor Skyfires, but there aren't any rules for Tzaangor Enlightened, which can be built from the same kit. They're armed with spears where the Skyfires are armed with bows.


I like the idea of a Minotaur shaman, but is there any lore basis behind the idea of Tzeentch Minotaurs being able to cast magic? Unless it's just a new unit creation of yours designed to expand the Minotaurs, in which case that's understandable. I'm planning to write rules for a Beastman unit devised by the guy who inspired a lot of my Albion work, called the Thickskull. You can see the illustration here: www.deviantart.com/dewitteillustration/art/Beastmen-Thickskull-844492851
Given the Cockatrice has been included in the AoS Beastmen book, perhaps Beastmen could include it as a special choice, given that it's currently only used in Storm of Magic and it's another of the myriad Chaos creatures that exist in the Warhammer world?
It's a pity that some of the mechanics from the 7th Edition book that did make the Beastmen unique, like the Shard of the Herdstone and the Despoilers rule for Bestigors won't make it through if the 6th Edition book is used as the basis. Perhaps these could be added, in the case of the Despoilers special rule giving a slight points increase for Bestigors?
I do like the Mixed Herd idea and it would be great to see it return, but my main problem is that in the 6th Edition book Ungors had 25mm bases like Gors, whereas now they have 20mm bases. Would this matter too much in 8th Edition, where the rulebook specifically states that characters on 25mm bases in 20mm units should be put next to the unit rather than in it? I know you could simply form the Ungors into their own ranks behind the Gors, but what would happen, for instance, if there was only a single Gor in the back ranks? Would the first rank of Ungors be able to move forward?
------
lordofskullpass
, you raise all fine points. I was trying to merely update the Beasts of Chaos book rather than do a complete rewrite. Already the errata is long. I left Primal Fury out because I figured there was enough special rules already in the Beast book. In fact, wherever possible, I tried to leave the Beasts of Chaos book intact.
I was actually thinking up updating the errata with no references to the Warriors of Chaos book - i.e. leave Chaos Trolls, Ogres, Shaggoth as written from the Beasts of Chaos book, maybe with only amending point values.