Post by lordofskullpass on Apr 17, 2019 13:30:31 GMT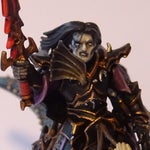 Liche Priest (Hierophant), Level 2 Lore of Nehekara - 105 points
15 Skeleton Warriors, light armour - 75 points
10 Skeleton Archers - 60 points
3 Skeleton Chariots, Musician - 175 points
1 Tomb Scorpion - 85 points
Sorry to necro this thread in advance, only just looked at it after viewing larabic's Slow Grow campaign thread that featured 500 pt armies. That's an nice thematic list there, but I would say that the small units of Skeletons are going to get picked off quite easily there. I've been doing some theoryhammering for TK just at this moment and have thought of a good list:
Liche Priest (Hierophant), Level 2 Lore of Nehekhara - 105 points
20 Skeleton Warriors, light armour, shields, spears, FC - 170 points
20 Archers, FC - 150 points
3 Carrion - 74 points
Total: 499
Kept with the Level 2 Heirophant - he can have another spell then to buff the unit better. Just thought having larger units and making the warriors more durable will help to protect him for longer though against stronger melee fighters. If you put him in the Warrior unit so that you have 21, you can arrange them in a 7x3 formation to allow all the Warriors to attack with their spears, making for a stronger melee unit, and the archers you can have in 10x2 or similar to get a good lot of arrows firing (you'll need them when you're hitting on straight 5s otherwise you'll feel like a 40K Ork player). The Carrion I put in to fill the last 75 points in the army, and thought would just be a nice touch to have a faster flanking unit in there knowing how slow Tomb Kings can be. I know they're not that good in melee but can be used to engage a unit in the flank or rear just as the Warriors charge in the front to help tip the balance of the melee, and are pretty cheap too. This sort of army still teaches a new player about most of the requirements, and they can also get to have fun with spears as something they may not already know (I don't have TK myself but have found a PDF of the Army Book online so have downloaded it for a bit of theoryhammering as I like them a lot, and Mantic's Empire of Dust range looks pretty good as a substitute for an aspiring TK newbie like myself now that GW have sentenced their own models to non-undeath).